Some glasses are red,
Some glasses are blue,
I think your glasses look great on you!
- excerpt from Glasses, a board book
I'm thrilled that Peeps Eyewear and Eye Power Kids Wear are celebrating the recent release of Glasses with a huge rainbow-themed giveaway!
 Why rainbows, you ask?
1.  The Glasses board book features kids wearing glasses in tons of different shapes and sizes and every color of the rainbow! Here at Peeps, we just love the idea that glasses can help a child express his or her personal style.
2.  Rainbows symbolize hope and acceptance. For many young children, glasses are a hard adjustment; they're a new (and sometimes uncomfortable) thing to wear on your face and many times children don't know anyone else their age who wears them.  "Glasses" shows kids that glasses can be a normal part of childhood, and how glasses can be fun.  We think that the moment a child understands that and feels better is like a rainbow after the storm.
3.  Rainbows are just plain fun! They're bright and colorful, and it's so exciting when you get to see one in the sky. Even Princess Annie loves rainbows!
Peeps Eyewear is partnering with Little Four Eyes and our friends at Eye Power Kids Wear to bring you this great big Glasses giveaway! The winner will receive:
1 copy of Glasses to keep
1 copy of Glasses to donate to your favorite library, preschool or optical shop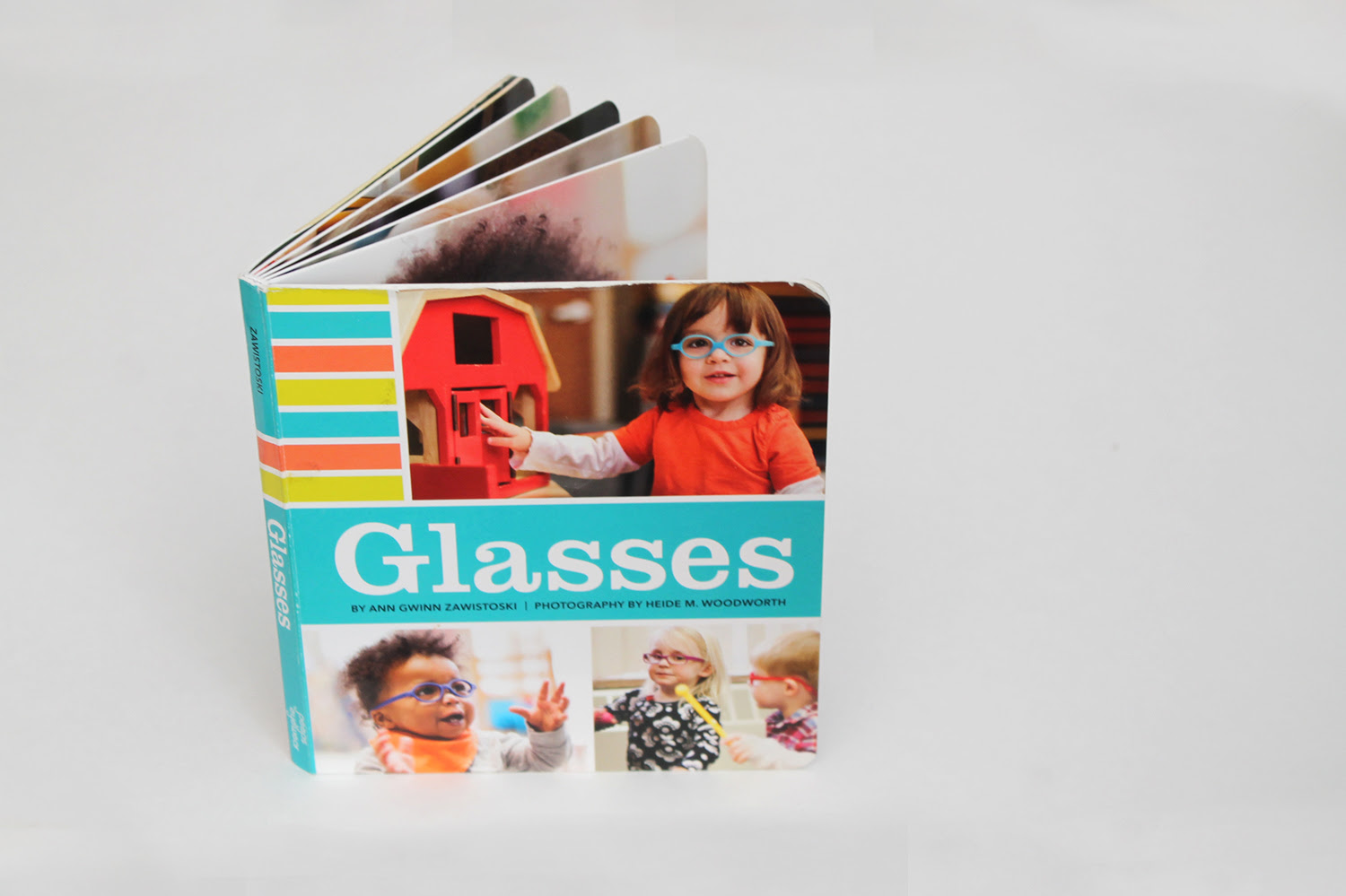 A pair of frames from the Peeps Eyewear Online Store: choose from genuine Miraflex frames in any color of the rainbow OR our Princess Peeps frames
A t-shirt of your choice from Eye Power Kids Wear
How to enter:  Use this Rafflecopter to enter.  Leave a message in the comment section with these two pieces of information: your favorite color, and the name of the library, preschool, optical shop or organization where you'd like us to donate the book.
Extra credit (just for fun): Share the giveaway on FB, Twitter or Pinterest and tag the library, preschool or optical shop so that they know you're trying to win a copy for them! We can spread the word that glasses are great, and brighten everyone's day with pictures of the smiling kids from the book.
Thanks for spreading the word about the wonderful board book, Glasses!
---
Recently, Zoe had an eye appointment and we heard something we'd never heard before: "come back in a year."  A year?!?  Zoe has never in her life gone a full year without an eye appointment (her first was at 9 months old).  It's thrilling and a bit scary all at the same time.  Her eye doctor explained that now that she was nearly 8, many of her visual pathways had matured, so the chances of developing amblyopia again are very, very small.  Certainly we will bring her in if she's having trouble seeing, but otherwise, we've graduated to yearly eye exams!
It got me thinking of other milestones that you might get to celebrate if you have a young child in glasses, patches, or contacts (not all kids will have all the same milestones, and they won't all happen in the same order).
Glasses milestones:
There's patching ones, too:
There's some eye test ones
And some for contacts
What other milestones have you hit with your child?  And what milestones are you looking forward to?
---
Many, many thanks to Laura from Oakland Avenue Blog for writing about her experiences with her son getting glasses, and their choice to get a second opinion.  I've always recommended a second opinion if you're ever unsure or just don't feel like you've gotten your questions answered.  – Ann Z
---
About a month and a half ago, my husband and I found out our 14 month old son, Eli needed glasses. A pediatrician noticed his left eye was slightly wandering and suggested we see a pediatric ophthalmologist, referring us to a couple doctors the pediatric practice typically works with.
Before making an appointment, I Googled around a bit to find reviews on the various practices recommended, but honestly my search didn't turn up much, so I decided to just go with whichever one was closer to our home. Neither my husband nor I wear glasses, so we didn't know what a typical eye appointment was like and we didn't really know how to prepare. I knew from my research that my son would likely need a patch or glasses, or maybe even surgery, but since I had no idea what the issue was, I didn't really know what issue to research!
At the appointment, we found out that Eli is farsighted and needed glasses. While the ophthalmologist was a wonderful and kind woman, Eli still cried throughout the entire appointment. Fighting her as she tried to check his vision, squeezing his eyes shut as she shined a light into them, and squirming and wiggling with all his might to get out of his father's "loving hug" – er – full-body-straight-jacket-embrace, it was very hard for me as Eli's mom to watch. It may have been because Eli was crying so much, or because I didn't ask the right questions, but I found we left with very little information. The ophthalmologist wrote Eli's prescription down on a little card, told us where a children's eye glasses shop could be found, and wished us luck. The actual vision exam and "discussion" lasted 15 minutes at most.
As we walked out, I felt like I just had the wind knocked out of me with no one there to help me up. My husband and I were in a bit of shock that our son actually needed glasses and we kept thinking about how we knew nothing about glasses or vision, let alone about the world of children's glasses! The next thing we knew, we were at the optical shop and another whirlwind began. Getting Eli fitted for glasses, choosing the color, shape, brand, transitions or clear lenses, etc., the questions came fast and furious and we were just making decisions off the cuff, trying to make the appointment as short as possible so we could get our son home to nap.
When we got home, all three of us were so emotionally exhausted, we all took naps. As the days went by and the reality settled in that Eli would be wearing glasses, I began to do more research. I eventually found Little Four Eyes, and found it so helpful and informative. The posts about finding an optical shop, explaining the prescription and how to get the glasses to stay on were all questions I was wondering about and I finally had answers. As I read through the questions to ask at a doctor's visit I realized that I didn't ask any of the questions suggested! I had no idea what the official name of Eli's diagnosis was, what to watch for in between appointments, and more.
I knew I could call and ask these questions – again, I did like the ophthalmologist we originally saw – but I also had a nagging feeling that I shouldn't have had to ask all of those questions, that she should have offered at least some of these answers. In addition, I had a few other moms with children in glasses suggest we get a second opinion after we told them about our experience and Eli's diagnosis. A lot of people thought Eli should be wearing a patch, and many others mentioned how hard it is to measure a child-that-can't-speak's prescription, especially when they were being anything but cooperative – so they questioned the accuracy. The final straw was when my pediatrician saw Eli at his 15 month well-check and told me she was also surprised that he wasn't wearing a patch for his wandering eye.
​While I did trust the first ophthalmologist when we started, enough doubts were planted that I figured a second opinion couldn't hurt. At least then I'd know for sure what his diagnosis was (assuming they somewhat matched up) and I could also ask many of the questions I didn't in the first appointment.
I made an appointment the following week ​at another pediatric ophthalmologist in town, and this time, I came prepared. Lots of food, drinks and toys, in addition a typed up list of questions on my phone that I wanted to ask about.
The second appointment could not have been more different from the first. Eli only had one short cry during the appointment. While he still fought the eye drops and squinted a lot at the lights, overall, he cooperated well with the doctor. Part of it may have just been the fact that my husband and I were much more calm since we knew what to expect, but I truly believe part of it was also the ophthalmologist's demeanor and all the child-friendly tools he used. This particular ophthalmologist used a lot more toys in the various screening tests – such as a small batman figurine for Eli to track, a video clip with stuffed animals and lots of stickers for a job well done. Towards the end of the appointment, Eli was getting a bit restless, but the doctor still took time to talk with me about Eli's diagnosis, telling me that he had accommodative esotropia and providing a sheet of paper with the diagnosis on it and where to go for more information.
Thankfully, the prescription for Eli's glasses were the same as what the original ophthalmologist provided, but this doctor did suggest that we patch Eli's stronger eye for at least one hour a day. In addition, this doctor took the time to not only answer my questions, but he provided much of the information I was looking for even before I asked, and left lots of time for us to discuss any other questions that remained.
While I would still say both ophthalmologist were great doctors, I'm so grateful we took time to get a second opinion. Partly because I know that I can be more confident in the care we're providing for Eli,​ and partly because I feel like we got a "do-over" in some ways. Just like learning a new skill or exploring a new place, you're always a little more comfortable once you've done or seen something before and you have a little more confidence in yourself and the situation.
For me and my husband, we had a lot of questions and fears about glasses when Eli was first diagnosed, and to be honest, we're still learning to navigate this new world. Moving forward, we've decided to go with the second doctor, simply because Eli (and we) had a better experience – and we wouldn't have known how good it could be had we not done it! I think I knew in the back of my mind that the first ophthalmologist's diagnosis was correct, and that likely, we wouldn't be "hurting" Eli if we didn't patch right away. But as his parents, it gave us a lot more peace and confidence that we were doing all we could for our son and as an added benefit, we found an ophthalmologist that works better for our situation.
If you're on the fence about getting a second opinion, I'd definitely recommend it – if only for your own piece of mind. You may find a doctor that you click with and trust a bit more – and you may find that you're happy right where you're at. But either way, I think you'll leave with more confidence in your child's care and the doctor you end up choosing – which is always worth it when it comes to our children.
How about you all? Anyone else have an experience in getting a second opinion?
---
There's a cliche of "looking through your eyes" as a way of trying to see the world as someone else might. It's usually not meant literally, of course, but  it reflects our desire to understand how others see things. That's certainly true when you learn that your child has a vision problem.  It's very common to wonder how your child had been seeing.
Very young children don't have the words to tell us what they want for dinner, let alone how they see.  Even older, more verbal kids have difficulty explaining how things look. It wasn't until Zoe was 4 that she started telling me that things were fuzzy without her glasses. But the first time I really understood how she saw was after a trip to the science museum where she visited a human development exhibit.  They had glasses you could put on that approximated how babies' vision develops in their first few months. "Mom, babies see really blurry they're first month. Then at 2 months, they see the way I see without my glasses. By a year, they see how I see with glasses."  Finally, I could put on glasses and see the world the way Zoe does with glasses.
If you can't make it to a human development exhibit, there are quite a few online vision simulators that claim to let you see how another person sees, most are based on a person's glasses prescription.  Of course, there are a lot of problems with even the best of these.  In fact:
A glasses prescription will not tell you exactly how a person sees
A glasses prescription will only tell you what shape the lenses on a pair of glasses or contacts should be in order to have the best possible corrected vision.  This is based on how much the shape of the eye differs from what it should be to see clearly (something called the refractive error).  Some (not all) of the reasons why someone may see differently than their glasses prescription implies include:
Hyperopic children can often compensate for much of their hyperopia, allowing them to see relatively clearly.  This does cause eye strain and can pull the eyes out of alignment, which is why glasses are still important.
Amblyopia is when a person does not see clearly even when glasses or contacts are correcting for the full refractive error.  Generally this is due to the brain suppressing the vision from one or both eyes.  It can be caused by the eyes not lining up, an eye having an injury, or one eye having a much stronger refractive error than the other.
There may be other problems in the visual system (either in the eye structures, the optic nerve, or the brain) that is causing vision problems.
One very simplified way of looking at it is imagining the visual system as a camera.  The lens of the camera may not be in focus, that's the part that glasses can fix that.  But there are a lot of other components of the camera that may not be functioning correctly, and any one of them can lead to unclear vision.
Visual Acuity
The measurement that best describes how clearly a person sees is their visual acuity.  It is usually expressed as two numbers, like 20/20 or 6/6.  The first number tells you the distance at which the measurement was taken (20 or 10 is in feet, 6 or 3 is in meters).  The second number tells you how far away a person with good vision could be to see what you see clearly.
For example, the visual acuity of my left eye without glasses is around 20/200.  That means that what I see clearly at 20 feet away, a person with good vision would see clearly at 200 feet away.  (I do not see terribly well in that eye).  There's a conversion chart here that converts between metric and US measurements as well as giving reading performance for those acuities.
If you'd like to see what a specific visual acuity looks like, there are a couple of options:
Wolfram Alpha will show you a simulation of any acuity you type in.  Simply type in the visual acuity with the word "vision": in this case "20/200 vision" (if you don't include the word "vision" it'll just calculate the fraction for you).
Fork in the Road Low Vision Simulators are vision simulators that you can purchase and wear to see the effects of different eye diseases.  Their cataract simulators demonstrate reduced visual acuity.  On their website, you can see examples of the blur simulation for 20/80 (6/24), 20/200 (6/60), 20/400 (6/120), and 20/800 (6/240).  Scroll through the page to see the different acuities.
 Vision Simulators based on Prescription
As I mentioned, vision simulators based on a glasses prescription are flawed at best.   Even the very good ones will only show you an approximation of how someone with no other vision issues would see with that prescription.  That said, the simulators can give you a feel for how strong a prescription is and how your child might be seeing without glasses.
Eyeland Web Tools – there are different simulators for different refractive errors.  Many children have a spherical (hyperopia or myopia) component as well as an astigmatism component.  I like that these allow you to see how those different components affect vision.
Sehschärfen Simulator – this site is in German, but is still pretty straight forward to use.  One of the features is that it changes the simulation based on a person's age, so that the effects of hyperopia (farsightedness / longsightedness) are reduced for young children.  This means if your child has a + prescription, you may think from this simulator that your child shouldn't need glasses.  This simulator will not show you how much eye strain a child will have due to hyperopia.

Enter your child's age in the "Alter" box
Enter the spherical and cylinder amounts
Click "Berechnen"
The top image is the simulated vision, the bottom image is what would be considered "normal" vision.
Other visual simulations of eye diseases
Fork in the Road sells vision simulators for many eye diseases resulting in low vision.  This includes cataracts (linked above), glaucoma, and more.
Inclusive Design Kit from the University of Cambridge also has a simulator for many vision problems.
Causes of Color includes a vision simulator for various types of color blindness and cataracts.
---
Sometimes you see a photo, and read the explanation and your heart just sinks:
"Totally heartbroken – my one-year-old dropped his glasses down the sink and they went through the garbage disposal."
Posted to the Little Four Eyes facebook group, shared here with permission.
---
I've posted a bit about the children's book about glasses that I've been working on – it's one that I held a Kickstarter project to raise the funding for.  Well I'm thrilled to say that the book has been published and is now available for purchase.  The whole experience has been fascinating, eye opening, way outside my comfort zone, but in the end, a really good experience.
The project was largely inspired by the comments I'd gotten on the photo gallery page.  I had figured the photo gallery would be great for parents to see the range of glasses available for kids, but I hadn't expected that parents would show their kids the gallery, and that kids would feel better about their glasses after seeing other kids like them in glasses.  I also remember how much Zoe loved looking at books with pictures of kids, and I wanted her to see kids who wore glasses just like she did.  And I was also a bit sick of books that talked about kids who hated glasses or who were teased about their glasses.  Those are definitely good stories to have, but they didn't reflect Zoe's experiences at all.
After waiting for 5 years for someone else to write a book that featured photos of kids in glasses, I finally decided that I was going to have to do it.  And luckily, I knew that my friend Kristin from Peeps Eyewear was just as interested as I was in helping kids in glasses, and since she had published a children's book, she knew a lot more about the process and had the contacts to actually make it work.  She agreed to be my publisher, for which I am so very thankful. I'm thankful, too, for so many of you who backed the Kickstarter or shared the project or gave me support (I wrote a bit about Kickstarter here and here).  I was able to get funding to cover most of the up front costs (photo shoot, graphic design, printing, etc). We held the photo shoot for the book in January.  The daycare center that my children attend was gracious enough to let us use their classroom (with fun colorful toys, and huge windows to let in the sunshine) for the photo shoot.
This slideshow requires JavaScript.
Our photographer, Heide, was simply amazing.  She worked hard and had a fantastic rapport with the kids.  And the kids were all amazing, too!  It was honestly a lot of fun –  just watching these kids play and have fun, and watching Heide work her magic to get some amazing shots, and meeting the parents and hearing all about their stories. Then came more work – choosing photos, working with the graphic designer, trying to get the print run to be true to color, getting an ISBN for the book… all sorts of things that I had never, ever dealt with before, so again, I'm thankful for Kristin's help.
It took longer than anyone of us had expected, especially since we had to not only produce the book, but also the other rewards for the Kickstarter backers.  But now I can hold all that hard work in my hands!
I have to say one more huge thank you to all of you out there for your support and inspiration for this book.  I don't know how I can thank you all enough.
---
Is there anyone out there with a child diagnosed with CHED (Congenital hereditary endothelial dystrophy), either recessive or dominant?   Another parent is really hoping to connect others facing the same thing, as it's a rare disorder, their having trouble finding others out there.
Leave a comment, or drop me an email (ann@shinypebble.com) if you would like to connect.
---